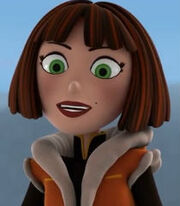 "
Inspector Gadget is always on duty!
" is a character in Inspector Gadget (2015 TV Series) where she is the Russian counterpart of Penny. She is voiced in English by Julie Lemieux.
Pasha
She appears in Tool Russia, With Love as the niece of Comrade Multi-Use-Tool.
She flirts with Talon and teases Penny and him about their chemistry.